MRCPI (IRELAND) General Medicine
Part-II Clinical
Online Course
Start Your Preparation With
MRCPI (IRELAND) General Medicine - CLINICAL
Dr. Sumanta Kumer Saha
MBBS (SOMC), MD (Cardiology), MRCP (UK)
MRCPE (Edinburgh), MRCPS (Glasgow), MRCP (London)
Mentor – Ss MRCP (UK)
Consultant, Acute Medicine
Ashford and St. Peter's Hospital
NHS Trust Foundation, London, UK
Founder Chairman | SsAcademy
Watch Feedbacks of our Most Sucessful Candiates.
Mentor: Dr. Sumanta Kumer Saha

Certificate: Available

Video Lectures: 600+ Hours

Level: Advanced

Support: 24/7 Hours

Learn New Skills & Pursue Your Interests

Mood of Instruction: English
Course overview
A Complete Ireland Part II - Clinical Course
350+ Long Cases Video Lectures

300+ Short Case Video Lectures

50+ Modules

200+ Clinical Cases

200+ Clinical Approaches

200+ Communications & Skills

400+ Presentations

1000+ Ss Boxes

1000+ Ss-Tips

1000+ Notes

1000+ Questions & Explanations

500+ Hours Video Lectures

5000+ Hot & Important topics
Course STANDARD
First time in the World and Best Course for MRCPI (Ireland) Part 2 Clinical.
Accelerate your future. Learn anytime, anywhere with Studio Filmed Video Lectures.
MRCPI (Ireland) Part - II Examinations
Our next examinations in Ireland are currently planned to take place between 19 September - 21 October 2022, this is subject to change but we do plan to hold the examinations between these dates. Results for this clinical exam are expected to be released in early November.
Applications for the September/October examinations are now closed, the closing date for applications was 5 August 2022, 5pm Irish time. As there are a large number of candidates waiting to take the MRCPI Part II GM Clinical Examination in 2022, the number of applications has exceeded the places we can offer at this time. As with previous diets, places will be prioritized.
Those who have been allocated a place for the exam will be contacted before the end of the following week to pay the outstanding fees to confirm their slot. Once places are allocated, we will then allocate candidates to their specific venues/dates. We aim to fill all available places and inform a majority of candidates of their exam date/venue by late August.
A
p
plicants who cannot be offered a place for this exam, will remain on the waiting list. If a place becomes available due to a candidate withdrawing from the exam, this place will be offered to the next eligible person. The next examination to take place in Ireland following this diet, will be in January/February 2023.
It's important to prepare for MRCPI exams and not to underestimate how long it takes to get ready. Having an understanding of how each exam is formatted will help you prepare and develop good answering strategies.
If you require a visa to sit an exam, it is your responsibility to ensure the visa application is made in sufficient time before the examination date. We have no role in granting or refusing visas.
A refund will not be given if you are unable to attend the examination as a result of a visa-related problem.
The fee for MRCPI examination has increased in line with the rising costs associated with delivering the exams, effective for all exams taken after 1 August 2022. Modest fee increases are spread across the three exam components.
The fee to sit Part II Clinical is €820 in Ireland, or €1,420 if you are taking the exam outside Ireland. The method of payment is credit or debit card, taken at the end of the online application process. Don't forget, if you're in Ireland you can claim a refund under the HSE Clinical Course and Examination Refund Scheme. Click here for more information

Download Documents
Download the essential documents for MRCPI Part II-Clinical Examination such as MRCPI General Medicine Part II Clinical, MRCPI GM Examinations Calendar 2022, Curriculum for Basic Specialist Training, MRCPI General Medicine Examination Regulations.
Why Would You

Join

The Course !
Best Approach.
The Traditional Online Revision Covers 10% Only Compare To SsAcademy Course.
Top-Rated
World - Wide 1st Time Studio Filmed Course for MRCP Ireland Part II Clinical.
Completeness
A complete course with Clinical Cases, History Cases, Communication skills, Presentation Skills, Tips, Tricks, Notes, Questions etc.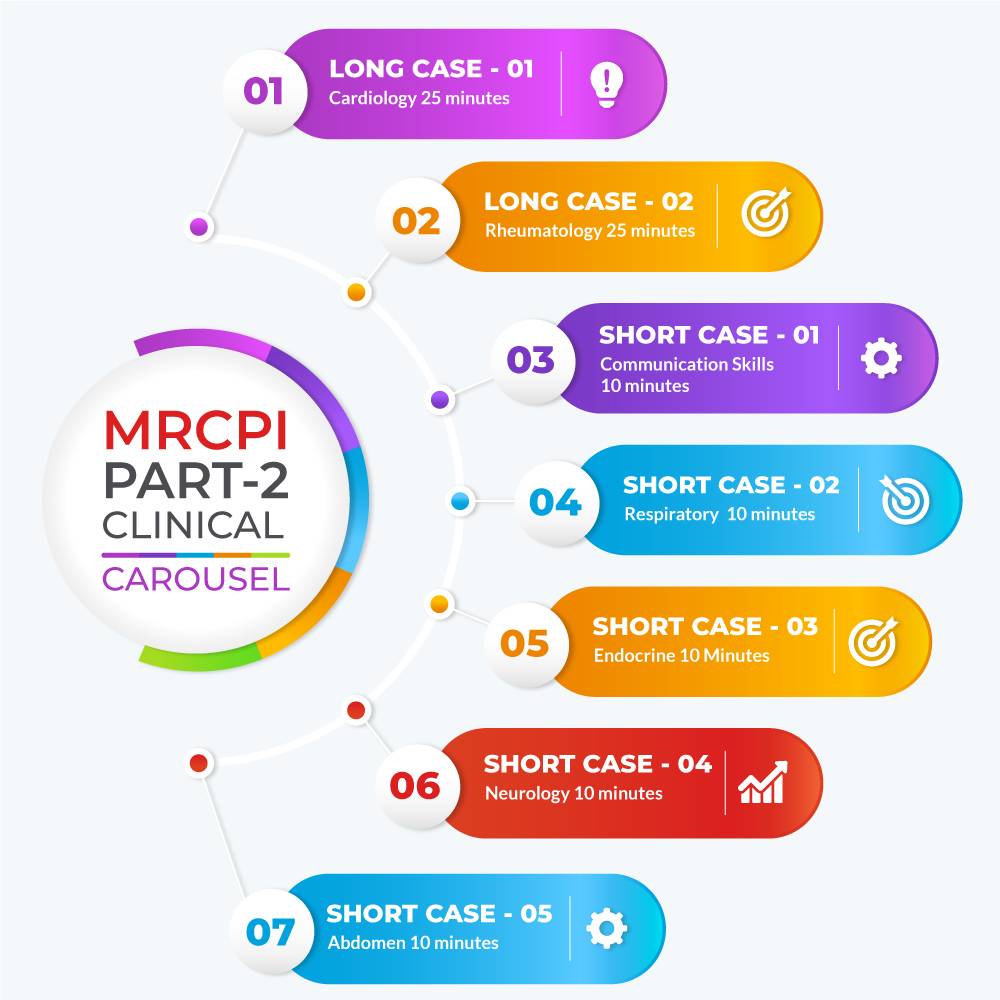 Prepare yourself
Boost Your Preparation and Intensify your Knowledge
Get Prepared with MRCPI Part II-Clinical
Watch how MRCP-Master examine patients with step-wise fashioned manner with real clinical signs, then present their findings
All our Video Takes' are recorded PROFESSIONALLY at dedicated studio with High Definitions' Camera, so the every subtle CLINICAL sings are not missed.
Full Presentation Prompts, that you can write and practice many times.
Learn the Best Approach to get the important clinical signs, then put-together, make your likely diagnosis CONFIDENTLY.
Course Convenience
Enroll the course and take preparation with the convenience given below
Ss-Box
PERSEVERE the all the Ss-Boxes, which are the integral part of your memorizing everything you need to PASS.
MAKE NOTES on every steps what stations you are enjoying because NOTES = PERSEVERANCE = REPETETIONS = MEMORZING = PASS.
Every information you need that are UPADATED based on the current evidence and GUIDELINES.
Our video player provides speed controls for every part of our course. Work at your own pace.
Our eLearning Platform is flexible to use from anywhere, anytime.
MRCP(i) Part 2 Clinical Course is at your home like YOUR MENTOR IS AT YOUR HOME to guide you, to teach you, to test you & at the end, to inspire you to get the best out from you.
All video lectures are made in professional studio with professional camera. Whole course are covered with Studio Filmed.
Our support team is always ready to support your 24/7. Feel free to contact us for any types of support.
Photo Gallery
Sample pictures from some of our cases. Shoot with professional studio and camera for smooth learning experience.
Get exclusive news
Get weekly updates on live streams, news and more right in your mailbox.
Great offer today!
50% OFF - Describe your offer here... - Use promo code #YYY